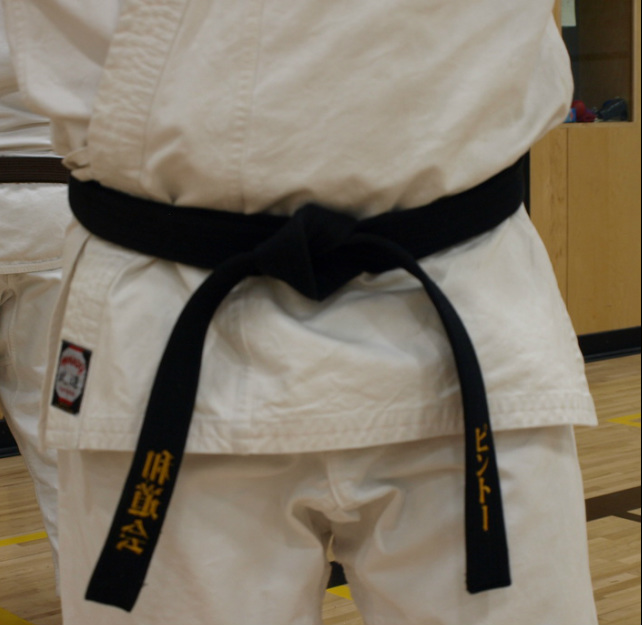 What does a Black Belt mean and how do I get one?

A student of karate that receives a Black Belt, or Shodan, is indeed a special individual. Perhaps only one in a thousand reach the rank of Shodan. When a student grades to Shodan it is a very important and momentous event in the students life. Perhaps it is a special event because very few people reach the Yodansha ranks and even fewer remain active and continue to progress to higher degrees of Black Belt. Or it could be exceptionally special because of the many hours of training and years of dedication it requires to receive a recommendation from your Sensei (teacher) to take the test to grade to Shodan.

It is true that any individual that receives the Shodan rank is worthy and deserving of the respect that comes with that rank. Although a Black Belt is perfectly capable of guiding ranks lower than themselves, it really requires many more years of training to become an exceptional Sensei. One thing is certain, receiving a Black Belt is one of the most memorable events in the life of a karateka.

To receive a recommendation to grade to Shodan the student generally has to put in at least four years of dedicated training while displaying a superior work ethic in the dojo. The student is expect to train on a regular basis, twice a week , with more time spent training outside of the dojo as well. The student must prove his dedication to the style they are practicing, show emotional and mental maturity, as well as strong spirit and will to succeed. The students regime includes the learning of all basic punches, blocks, kicks and kata, as well as learning all of the Pinan kata required for their belt rank. The learning of the kata culminates in learning the kata Kushanku at brown belt level. The student also benefits if they learn supplementary kata which may or may not be required, depending on the Sensei and the club requirements. The student must also display kumite (fighting) skills and techniques, exceptional stamina and fitness, dedication, humility and a strong fighting spirit. When these types of requirements are met or exceeded the students teacher will recommend them for a grading to Shodan. Typically Shodan gradings take place in the southern provinces, although Shodan gradings can be arranged to take place in the Northwest Territories if required.

Advancement to Shodan should be viewed as a new beginning to a karateka's training and not an end. In the Shintani Wado Kai Karate Federation we maintain a traditional approach to advancement in the Black Belt ranks. There are 10 degrees of Black Belt and a lifetime is required to reach the very highest levels of Black Belt. After 5th degree, Black Belt advancement is on an honorary basis, taking in consideration the activity of the Black Belt and what he/she have contributed to their club and the Federation over the years.

The beauty of receiving a Shodan rank is that it is something that is always earned with sweat, hard work and personal dedication. It is something that can never be bought or sold, and always holds a high intrinsic value to those who have earned it. You could say the Mudansha (ranks below black belt) learn the meaning of respect from their Sensei, but it seems that a student only really begins to understand that concept after receiving their own black belt.