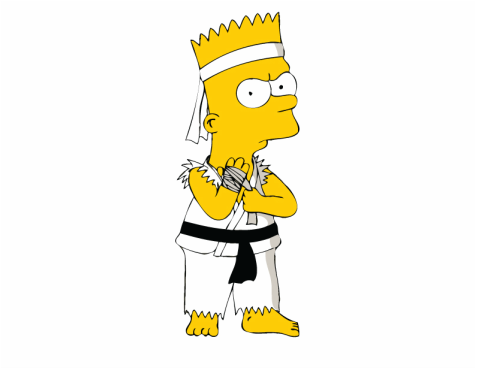 ---
Sensei Bart Simpson - Black Belt
​
Sensei Bart was the first in the under 10 years category to receive his black belt in our club. Although Sensei Patrick was reluctant to recommend him for Shodan rank, he finally gave in when Bart's father Homer Simpson broke down in tears in the dojo and grovelled on the ground and begged him to grade Bart to black belt. When Sensei Patrick asked Homer why he was so desperate to have Bart become a black belt Homer stated "he was afraid to take another beating from his son, and couldn't afford to replace the furniture in the house which Bart threatened to destroy if he doesn't get graded to black belt!!!"

Sensei Patrick, having pity on Homer, agreed to recommend Bart for Shodan under two conditions. The first condition was Homer had to agree to pay a lifetime membership in the club, and attend to learn how to defend himself against Barts attacks, and the second condition was it would be appreciated if Homer donated the small amount of 5 thousand dollars to purchase new equipment in the dojo. Homer agreed, and this is how Bart became a black belt in our dojo.

Bart is a loner in club, who is feared by every student under 16 years, and by some adult members of the club. His Sensei keeps him under control by granting his every wish, and by treading on egg shells during classes.

Although Bart has displayed a "don't care what you say even if your my sensei attitude" his Sensei believes with time, therapy, medication and a good whooping or two in kumite, Bart may become a good and functional member of society. In the meantime Sensei Patrick employs two bodyguards to keep a watchful eye on Bart during classes, and to ensure the instructors and students remain relatively safe, at least for the time being...

Its a good thing you graded to black belt Bart, a really good thing, we are all really happy about that Bart, really we are......doh!!!