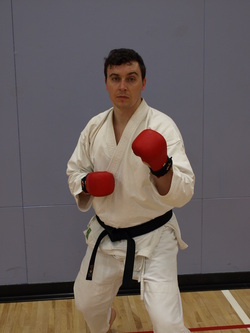 Sensei Cal Pittet - Yodan - 4th Degree Black Belt


In 1985, at seven years old, Sensei Calvin started Shintani Wado Kai Karate with his father in Redvers Saskatchewan under the instruction of Sensei Roland Day, and later, Sensei Rathe Mokelky. Growing up he was lucky enough to be able to travel to clinics and tournaments ranging from Ontario to Alberta.

In 1994 Calvin was graded to Shodan and in 1996 he moved to Calgary for school and trained at University of Calgary Wado Kai Karate Club. In 1998 he graded to Nidan and was also a member of the Shintani National Team.

He moved to the Northwest Territories in 1999 and in 2001 started the Norman Wells Wado Kai Karate Club. In 2009 he moved to Yellowknife where he currently resides and trains at the Yellowknife Wado Kai Karate Club. He graded to Yodan rank in 2014.




---